Remote Controlled Land Raider
- introduction -
i always wanted to combine my liking for rc-models and toys with warhammer40000. further, for a space marine player the land raider is the ultimate tank. => than with the new redeemer released, i had no other choice than to rc it.
up to this moment there were 2 great projects regarding rc-Land Raiders already known in the comunity. one of them was a superb Dark Angels Land Raider, that was much bigger than 40k-scale, but a really great job allthough. the 2nd one was 40k-scale,  but unfortunately not wireless. so i decided to build the first 40k-scaled land raider that is actually remote controlled, because of no cable between control and model. my investigations result was, that no one has finished something similar before, so it was completely up to me to solve all related problems on my own.
there are 2 ways to go, when planing to rc a non-rc model:
1.: try to find another rc model, that can be used as a kind of organ donor and take everyting you need from it and install it in the accepetor
2.: buy all additional parts needed to rc the tank, seperately and combine / install them. (this way i'd chosen for my shadowsword)
for this project i decided to choose the first way, not only because it was easier, but also because i wanted to keep it as simple and cheap as possible for everyone who wanted to copy this project. and now, 4 months after i released the first buildlogs in several communities, i'm really happy, that meanwhile, i know at least 4 other builders, who used my concept to build their own. for a builder like me this is both: motivating and honorific.
ok … but now let me start telling you how i found the perfect organ donor for my project:
i simply gathered all messurements, infos and dimensions of all modern, historical and sifi tanks i was able to get. than  i started calculating them in different scales and put everything into lists and tables. i knew, that the most important value was the tracks width. so i concentrated on this and found several tanks fitting in different scales. than i searched the web for kits of those tanks in scales, that were relatively close to the ones i calculated. —- to shorten it: finally i bought a sherman in 1:30 and a pershing in 1:30, too. both from torro. as i got the tanks i was pretty happy to see that the tracks had exactly the perfect width. but unfortunately both tanks tracks were much too long. the shermans were little shorter and therefore better for my purpose. this and the fact, that the shermans chassis width was almost the same as the land raiders, made me decide to take the sherman as the donor. as i've written above, one of my ambitious targets in this project was to keep it as cheap as possible. this is why i resigned to use additional components but maybe some leds.
so the first thing i had to do, was to disassemble the sherman and cut all parts according to my needs. here are some pics, showing the Land Raider in an extremely early state, to give you an idea of what i'm talking about:
first i prepared the LRs sides:
than i prepared the sherman-parts, that i planed to install: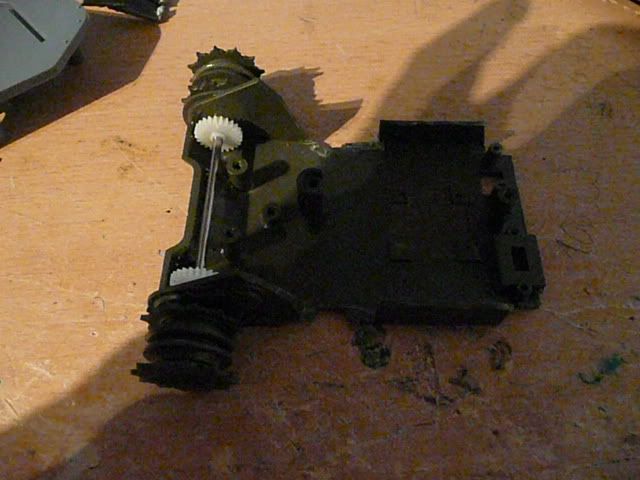 … and attached them to the LR-parts:
than i glued the seperated sherman-wheels to the land raiders sides: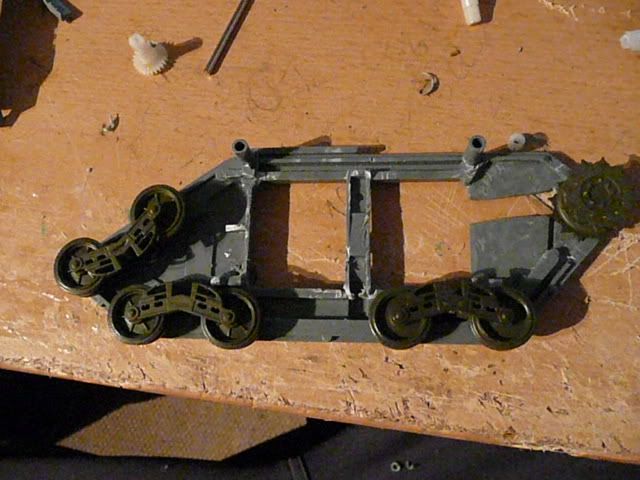 with both sides connected, i already looked pretty good:
than i put the tracks on. as you can see in the pics, i decided not to shorten, but to span them with a additional wheel: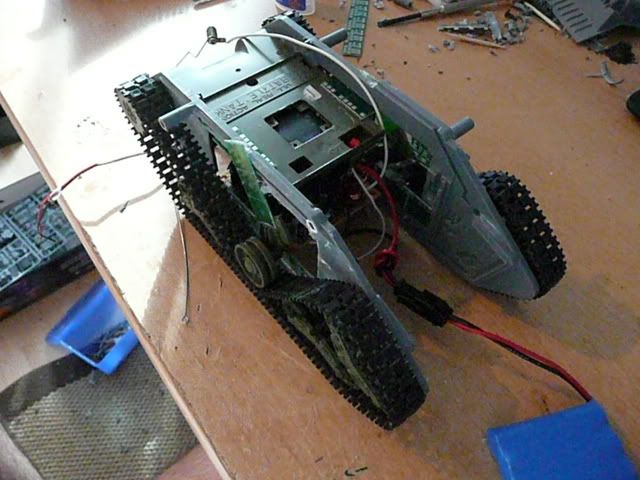 and now it's time for another video, that shows the mechanism working:
… and with some additional parts from the land raider attached loose, it already already looked as if it was almost finished …

but before we continue, it's time for another testdrive … this time on my kitchentable:
now, that i knew the lr was running pretty well, i started to think about how to integrate the remaining two functions. the function, that was lifting the shermans cannon before, now got integrated in the tanks upper section, to spin the gunner on top.:
and the function that was spinning the shermans turret before, now, was used to move the hull mounted assault cannons.
and as you can see …. – up to here i only used parts coming from the land raider or from the sherman. but as i've said before i also wanted to integrate some leds. those i bought seperately and installed them to represent the LRs main lights and also the machine-spirit.
and the next video, in whichs middle you'll see the finished land raider with all gaps closed, all lights installed and all functions connected, … already brings us to he end of this article. i hope you enjoyed reading it  …
BobPanda.